1Lt. Raymond F. Fox
Buffalo, NY

Pilot
Salmson 2A2

1st Aero Squadron
Air Service, American Expeditionary Forces


First World War, France

Killed in Action
October 1st, 1918



---


Raymond Fox was born on April 14th, 1891 in Buffalo, NY. He attended Lafayette High School
and was among the 1913 graduating class at Rensselaer Polytechnic Institute in Troy, NY where he
studied Mechanical Engineering. He apparently went to work for the Curtiss Aeroplane Company,
but I've found no details concerning his employment with Curtiss. He was among Buffalo's
earliest aviators and a member of the volunteer aero company that was organized
by the Buffalo Aero Club prior to the USA's entry into the First World War.
After joining the Army in July of 1917, Raymond was sent overseas in September of that year and
was ultimately assigned to the 1st Aero Squadron, an observation outfit which performed artillery
spotting as well as visual and photographic reconnaissance, often far behind enemy lines. The 1st
Aero was among the earliest of American squadrons to see action in the war, and was equipped
with a number of different French aircraft, including the SPAD S.XI and the
Salmson 2A2, the type with which the outfit would finish the war.


A Salmson 2A2 of the 1st Aero Squadron.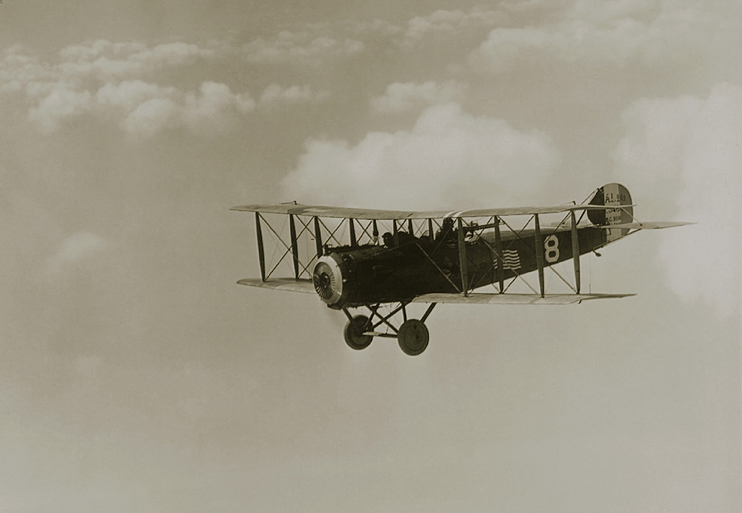 San Diego Air and Space Museum Archives - Larger Image


During an artillery spotting mission on October 1st, 1918, Raymond and his observer,
1st Lt. Walter A. Phillips, ran afoul of the Deutsche Luftstreitkräfte (the German Air
Force of WWI), were attacked by at least four Bosche aircraft, and shot down. Though two
squadron mates in another Salmson observed the wreckage, they had not witnessed the crash
and could not positively identify the burning wreck. Upon returning to their aerodrome late
due to being forced down behind friendly lines by mechanical trouble, they learned that
Raymond and Walter were overdue, status unknown, and therefore reported as missing.


Buffalo Express November 24th, 1918
via FultonHistory.com


By early December, the grim truth was known...


Buffalo Evening News December 12th, 1918
via FultonHistory.com


The following description of Raymond's last flight comes from Walter Phillips' Find a Grave Memorial.

On October 1, 1918 an order was issued from headquarters to spot enemy artillery which was shelling our troops.
Two planes were dispatched, one with Lieutenant Fox and Philips, the other piloted by Lieutenant McCormick
and gunner Joseph Farnham. Both planes crossed German lines then split up to observe enemy troop positions.
Phillips and Lt. Fox encountered four German planes and, being hopelessly outnumbered, were shot down. The
two men were reported as missing in action and it wasn't until December 7th that their deaths were confirmed.
In a letter to Walter Philips' mother, Farnham explained the details of the encounter with the German planes.
"I don't believe it was more than five minutes before we got back to where Walter was working and we saw a ship
there which we thought was his. We followed it for a short ways trying to touch it. Just then, some distance to our
left, I saw several ships which looked like the enemy, but was not much concerned as they were too far off to look
dangerous, and I thought we were following Walter out of their way. Suddenly I caught sight of a streak of flame,
which a plane makes when on fire, and called through my tube to the pilot. He looked around and about that time
I was able to determine that the ship we were following was not Walter's. You have no idea, someone who has not
experienced it, how difficult it is to know and recognize exactly, different ships in the air. We turned and headed
for the plane where the light had occurred, went down close to the ground where the fallen ship was still burning,
but even then did not know whether it was our ship or not. We gained altitude again and then while directly over
our lines, the crank-shaft in our engine broke. Lt. McCormick made an excellent landing near one of
our batteries from which we borrowed horses and rode to headquarters of the division. There we learned,
for the first time, that the ship we had seen go down was indeed poor Walter and Fox.
Later, Walter and Fox were found at the location I had given by map (where I had seen his still burning ship),
and buried by the Division Chaplin, by the side of a pretty road just north of Varennes. They lay side by
side with several other boys - infantry men who died nearby. As soon as was possible, crosses were
made from the struts of an airplane and marked, as these were placed as headstones."


The gravesite described above by Joseph Farnham.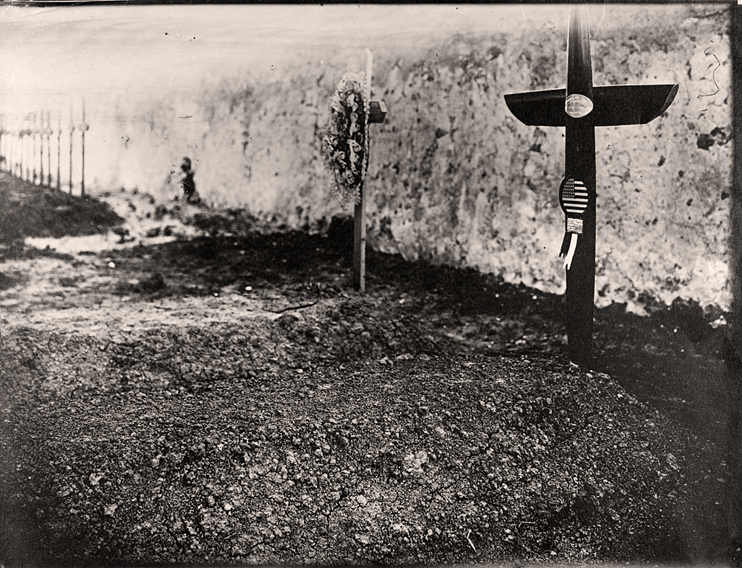 San Diego Air and Space Museum Archives - Larger Image



Like so many who were buried in temporary graves across the battlefields of France, Raymond
was later moved to a permanent resting place at the Meuse-Argonne American Cemetery and Memorial.


Raymond Fox's Find a Grave Memorial
---
See more of the 1st Aero Squadron in these entries from one of your webmaster's photo blogs:

Snoopy's Cousin and His Salmson 2A2
This is our aeroplane. There are many others like it, but this one is ours...
Alright, on three... everyone say, 'Let's bash the Bosche!'
---
---
Back to 'WNY Vets - USAAS'