SSgt. Casimer L. 'Casey' Bukowski
Buffalo, NY
Lancaster, NY

Waist Gunner
B-17G Flying Fortress
Serial #42-31443
'VE-M'
'Friday the 13th'


532nd Bombardment Squadron(H)
381st Bombardment Group(H)
Eighth Air Force
European Theater of Operations
Prisoner of War

Air Medal, 2 Oak Leaf Clusters
Purple Heart
POW Medal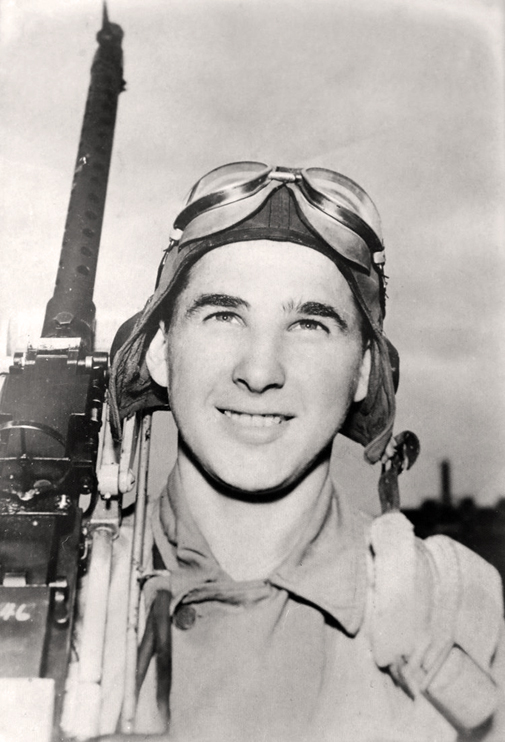 Casimer Bukowski via The Buffalo News/John Hickey


---


When the USA entered the Second World War, 17 year old Casimer L. Bukowski of Buffalo, NY was
a student at Emerson Vocational High School. Though he was not yet of age to serve in the military,
Casey decided to leave school early and put the skills he had learned to use for the war effort,
landing a job at Uebelhor Bros. in Buffalo, machining components for landing gear struts used
on the P-40 Warhawk, an Army fighter aircraft that was also built in Buffalo by Curtiss-Wright.

Shortly after his 18th birthday on June 4th of 1942, Casey enlisted in the United States Army
Air Forces. Having been rejected by the Navy because he still had his wisdom teeth, and the Marines
because of his small stature, the Army was more than happy to accept him. Casey likely continued
working at Uebelhor Bros. until receiving orders to report for basic training in November of 1942.



A Curtiss P-40, the type of aircraft for which Casey made landing gear components.
(I have another website dedicated to the Curtiss P-40, which you can see HERE.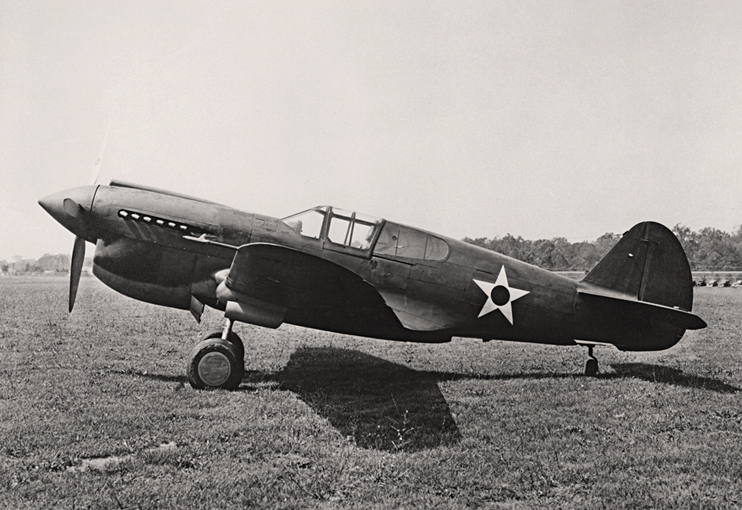 Project 914 Archives (S. Donacik collection) - Larger Image


I don't know which base Casey went to for basic training, only that it was in Florida. He then went
for gunnery training, possibly at either Buckingham Army Air Field or Tyndall Army Air Field, both
of which were also in Florida and had flexible gunnery schools. Upon completion of gunnery training he
was assigned to the 798th Bombardment Squadron, 469th Bombardment Group, a dedicated training
outfit for replacement bomber crews, headquartered at Alexandria Army Air Base in Louisiana.
Up to this point, Casey had learned only basic soldiering and the art of aerial gunnery. Now he
would learn to function as part of a crew, spending many hours aloft on long cross-country flights
designed not only to test and further develop each crewmember's skills, but also to acclimatize
them all to some of the physical rigors of the job that they would ultimately be sent overseas to do.
It was during one of these cross-country flights on August 13th, 1943 (a Friday) that Casey's B-17
suffered either an engine failure or fire, forcing the crew to bail out roughly 4 miles northeast of
Rockland, Texas. All ten made it out AOK, and it was this good fortune, undoubtedly combined with
a bit of superstition, that saw the crew dub their subsequently assigned aircraft 'Friday the 13th'.


This photo shows Casey, center, with his crew during training at Alexandria Army Air Base.
Left to Right: 1st Lt Francis Flaherty (pilot), 2nd Lt John Hoffer (co-pilot),
2nd Lt William Farrell (bombardier), TSgt Notra Bright (engineer/top turret gunner),
SSgt Casimer Bukowski (left waist gunner/2nd engineer), SSgt Arthur Butler (tail gunner),
SSgt Henry Krzyak (right waist gunner), SSgt Burling Larson (ball turret gunner), unknown.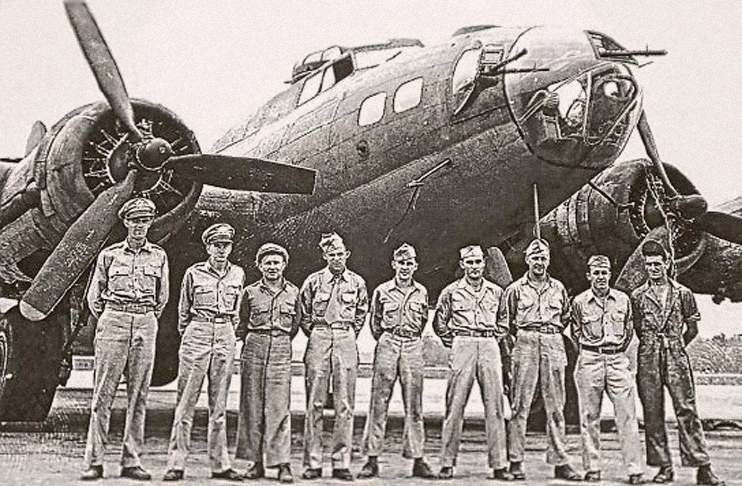 Casimer Bukowski via The Buffalo News


Another crew shot, with slightly different personnel:
Back Row (L-R)
TSgt Notra Bright (engineer/top turret gunner), SSgt Casimer Bukowski (left waist gunner/2nd engineer)
TSgt Edward Doherty (radio operator/gunner), SSgt Burling Larson (ball turret gunner)
SSgt Henry Krzyak (right waist gunner), SSgt Arthur Butler (tail gunner)
Front Row (L-R)
1st Lt Francis Flaherty (pilot), 2nd Lt John Hoffer (co-pilot)
2nd Lt Benjamin Saporta (navigator), 2nd Lt William Farrell (bombardier)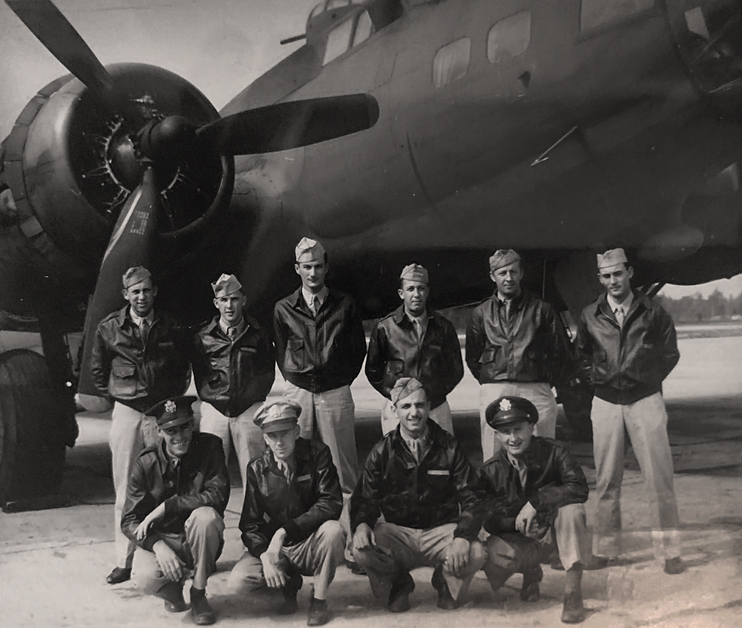 Casimer Bukowski via American Air Museum in Britain - Larger Image


By late 1943 Casey and his crewmates had completed their training, were sent to England as a
replacement crew, and assigned to the 532nd Bombardment Squadron, 381st Bombardment Group
which was based at USAAF Station 167, Ridgewell Airfield, located near Halstead, Essex.



A modern reproduction of the 532nd Bombardment Squadron's emblem, painted
on a leather patch similar to those worn on flight jackets of the time.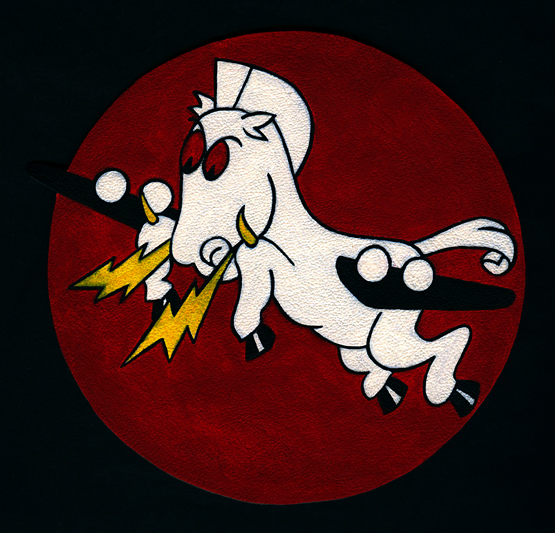 Artwork by the Webmaster


Here's a photo of Ridgewell Airfield, taken one week after Casey's ship was shot down.
The caption from the American Air Museum in Britain's website reads:

"Aerial photograph of Ridgewell airfield looking west, the bomb dump is to the right of the airfield, 29 February 1944.
Photograph taken by 7th Photographic Reconnaissance Group, sortie number US/7PH/GP/LOC188."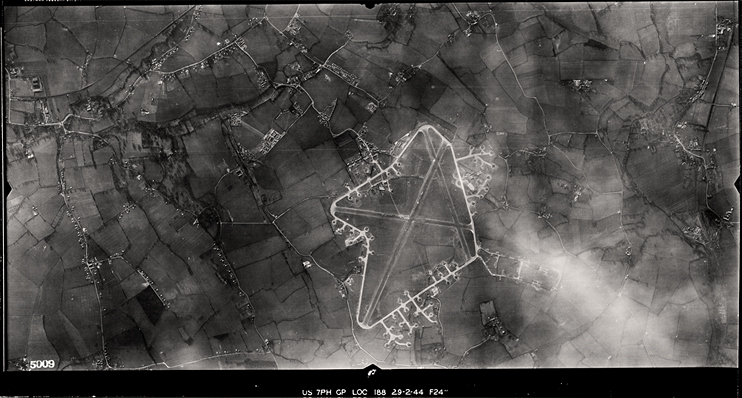 English Heritage Archive via American Air Museum in Britain (USAAF photo) - Larger Image - Full Size Image


This photo, taken during January or early February of 1944, shows Casey's ship, 'Friday the 13th',
B-17G serial number 42-31443 of the 532nd Bombardment Squadron, nearest to the camera ship.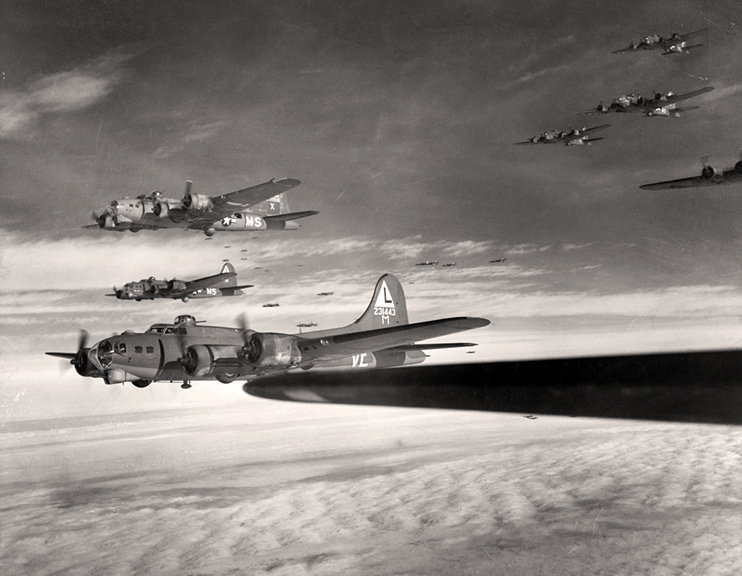 National Museum of the United States Air Force - Larger Image


More clearly discernable in this crop are the squadron code letters 'VE' on the rear fuselage, partly
obscured by the left wing. The individual aircraft letter 'M' is visible on the tail, under the serial
number. The 'Triangle L' marking identifies this as a ship from the 381st Bombardment Group.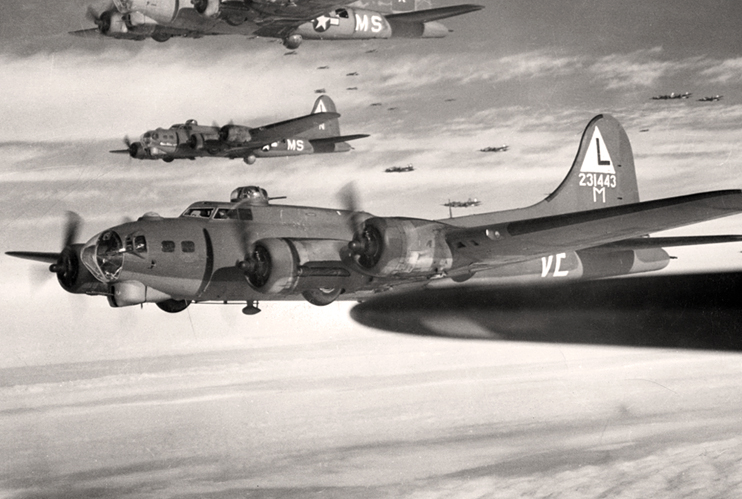 National Museum of the United States Air Force - Larger Image


On February 22nd, 1944, during Operation Argument (also known as 'Big Week'), a series of attacks by
the Eighth and Fifteenth Air Forces against the German aviation industry, Casey and his crew were
flying their 15th mission, a strike on the AGO Flugzeugwerke, an aircraft factory in Oschersleben, Germany.
At about 1:02PM their ship came under fire by Luftwaffe fighters and was shot down near Bielefeld,
115 miles or so west of Oschersleben. The ship was hit by 20mm cannon fire, which exploded on impact.
Just a few hits would have caused considerable damage throughout the ship, but at least one projectile hit
the oxygen system, momentarily turning the interior of the B-17 into an inferno. Casey was hit in the head,
back, and legs by shrapnel from one of the exploding cannon shells, and was knocked out briefly.
Despite these severe wounds and slipping in and out of consciousness, Casey was able to pick himself up
and bail out of the stricken bomber through the rear fuselage hatch. Three others were also able to get out:
TSgt John P. Roe (radio operator), FO Russel D. Austin (navigator), and 2Lt William R. Farrell (bombardier).
The other six members of the crew, 1Lt Francis J. Flaherty (pilot), 2Lt John I. Hoffer (co-pilot), TSgt Notra
J. Bright (engineer), SSgt Burling Larson* (ball turret gunner), SSgt Henry R. Krzyzak (right waist gunner),
and SSgt Arthur N. Butler (tail gunner) were either killed during the attack or unable to escape the
doomed ship before it crashed in the Senne region several miles south of Bielefeld's city center.
'Friday the 13th' was one of six ships from the 381st BG that failed to return that day.
* S/Sgt Burling Larson was also from Buffalo, NY and I'll
be adding a feature page for him to this website in the future.
When he reached the ground, in great pain and unable to stand, Casey was captured by civilians who
held him in a nearby farmhouse until he was picked up by German soldiers. They took him to a hospital
where his injuries were treated, but his right eye was too badly injured and could not be saved. After
interrogation and a brief period of recovery, he was among the first American airmen to be sent to Stalag
Luft VI in East Prussia. His stay there lasted just a few months, as the relentless Russian advance toward
Germany saw the camp evacuated in July of 1944 and Casey was sent to Stalag Luft IV at Gross Tychow,
Pomerania. In February of 1945 this camp, too, was evacuated and Casey took part in 'The Black March',
one of a series of forced marches that saw thousands of Allied POWs from numerous camps walk for weeks
to various other camps and locations. Casey's march went on for 82 days before he was liberated on
April 26th, 1945 by American GIs from the 104th Infantry Division at Bitterfeld, Germany near Leipzig.

More information about and photos of both Stalag Luft VI and IV can be found here:


Here's the lead page from the Missing Air Crew Report (#2930) for 'Friday the 13th'.
The MACR provides all known information about the ship, crew, and circumstances of their loss.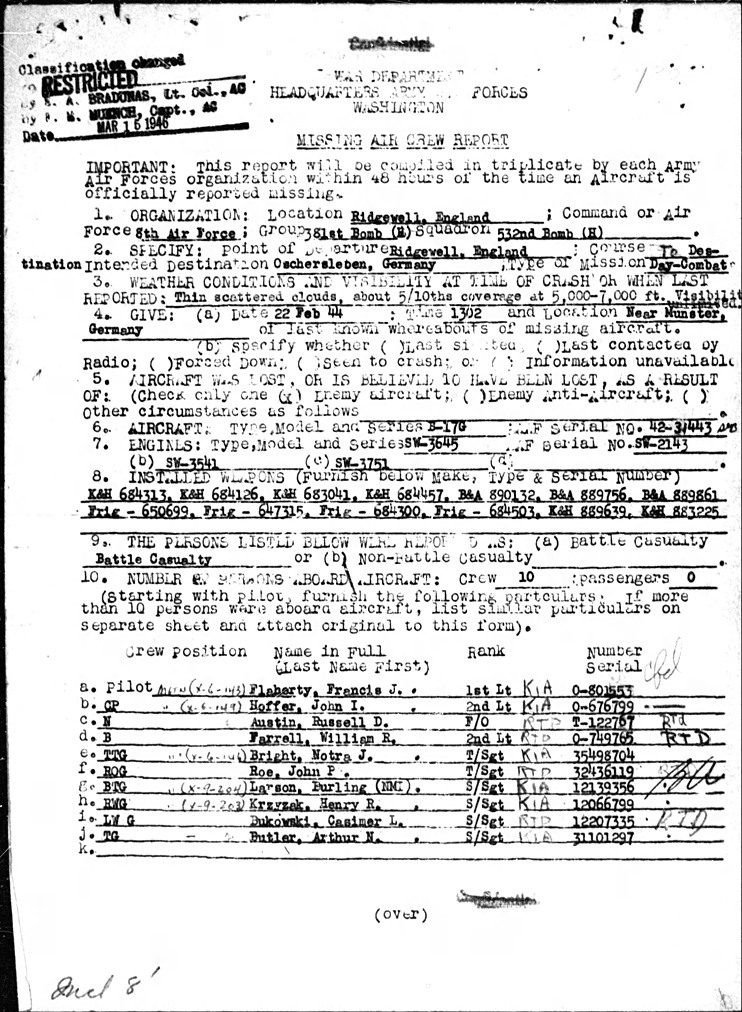 National Archives and Records Administration via Fold3


This is the lead page of a questionnaire filled out by Casey, added to the MACR after
he had been liberated. I plan to include the entire report on a sub-page in the future.
Until then, you can view the entire MACR on the NARA website, HERE.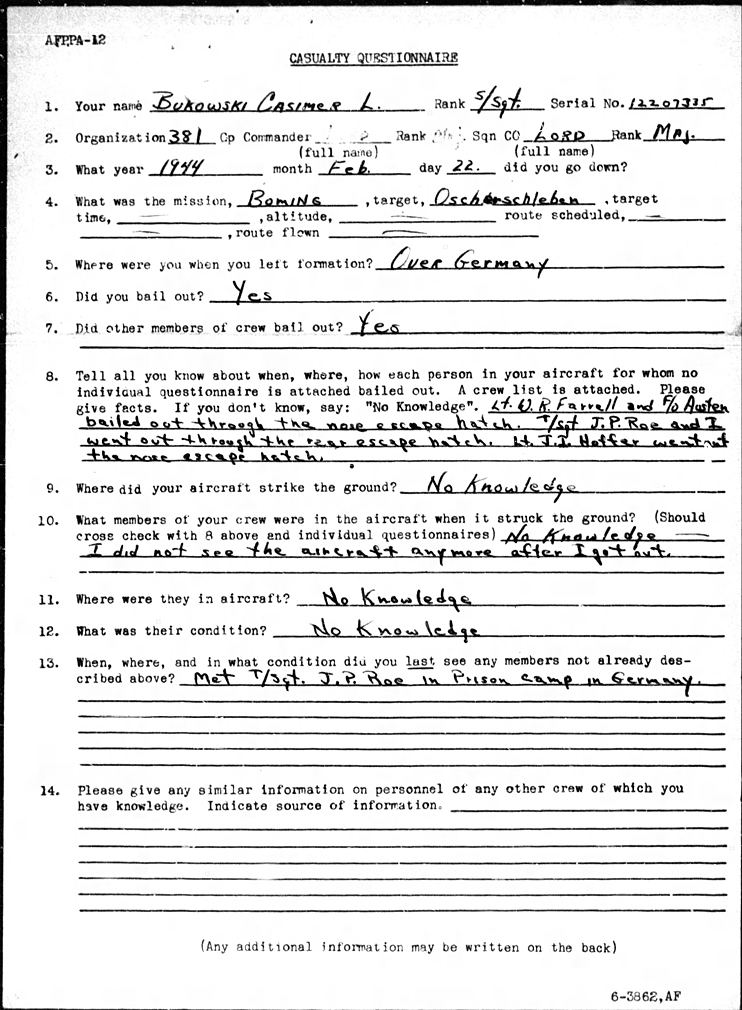 National Archives and Records Administration via Fold3


Casey returned to the USA in May of 1945, spent several months in a hospital in Phoenixville, PA,
and was honorably discharged from the US Army on February 18th, 1946. He eventually went
on to work at the VA hospital on Bailey Avenue in Buffalo, retiring in 1981.
As of this writing, April of 2020, Casimer Bukowski is alive and well, living in Lancaster, NY.
---


The 'Villain'

In Casey's account of the events of that fateful day, he mentions that his ship was attacked
by 'Bf 110 fighters'. The Messerschmitt Bf 110, alternately known as the Me 110, was a 'Zerstörer'
(destroyer), a two-seat, twin-engined, heavy fighter that carried formidable armament. But early in the
war, specifically during the Battle of Britain, it had proven too vulnerable to enemy single-seat fighters
and was long retired from its intended role in all theaters except the Eastern Front. So at this stage of
the war the only Bf 110s in service over Western Europe would have been nightfighters which, at the
time, were doing double-duty defending Germany against not only the British bombers at night, but
also against American bombers during daytime. So Bf 110s were undoubtedly in the mix that day.



A flight of four Bf 110G Nachtjäger (nightfighters) from Nachtjagdgeschwader 1 on the prowl in daytime
skies. It was aircraft like these that Casey mentioned in his account of the attack on his ship.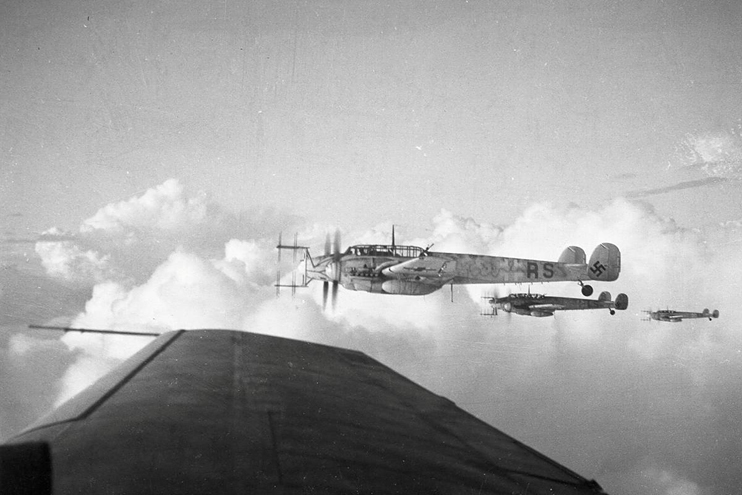 Von der Westfalenpost-Website - Larger Image


But it wasn't the guns of a Bf 110 that knocked 'Friday the 13th' out of the sky.


Werner Gerth, the man who shot down Casey's B-17.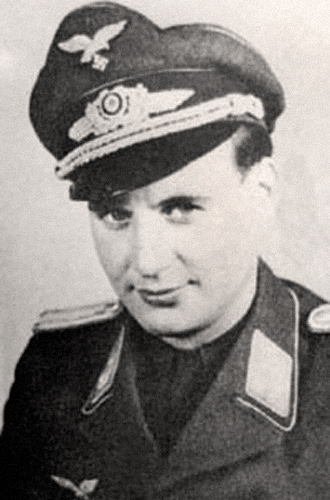 Original image from: Luftwaffe.cz


Leutnant Werner Gerth was a pilot with Sturmstaffel 1, an experimental unit that flew the
Sturmböcke, a modified version of the Focke Wulf Fw 190 that had more armor protection
for the pilot as well as heavier armament than a stock Fw 190. The idea was that the extra
armor would allow the pilot to press his attack and move in closer to a bomber than usual
before breaking off, allowing him more firing time with the heavier armament, potentially
inflicting far greater damage than an attack made by a normal Fw 190. Also, if deemed
necessary, Sturmböcke pilots were encouraged to ram the target to guarantee a kill.
Gerth, who had previously served with Jagdgeschwader 53, volunteered to join Sturmstaffel 1
in January of 1944, and 'Friday the 13th' was the first of his 22 victories over the 'Viermots',
four-engined heavy bombers like the B-17 and B-24. He was himself shot down 12 times before
being killed on November 2nd, 1944 while attacking a formation of B-17s near Halle, Germany.
At the time he was Staffelkapitän (literally staffel captain, understood to be 'commander') of
14 Staffel (Sturm), Jagdgeschwader 3. He was posthumously promoted from the rank of Leutnant
(Lieutenant) to Hauptmann (Captain) and awarded the Deutsches Kreuz (German Cross)
in Gold for repeated acts of bravery and/or achievement in combat with an enemy.

You can read a bit more about Werner Gerth HERE.


These next four photos show some of the modified Fw 190s flown by Sturmstaffel 1.




From: Sturmstaffel 1 - Reich Defense 1943-1944 The War Diary by Mombeek, Forsyth & Creek - Larger Image


This photo shows well the armored glass panels (with dark frames) fitted to the stock canopy and
windscreen. Not clearly visible is the extra armor plating fixed to the fuselage below the cockpit.
The long barrels protruding from the wings are blast tubes for 20mm cannon; a total of four were
carried, with the two outer weapons being replaced by 30mm cannon in later variants of the aircraft.
Not visible here are the two machine guns carried in the nose of the aircraft. Standard models of the
Fw 190 carried 7.92mm guns in the nose, but these were replaced by 13mm guns in some variants of
the Sturmböcke. In addition, unguided rockets were sometimes mounted in tubes under the wings.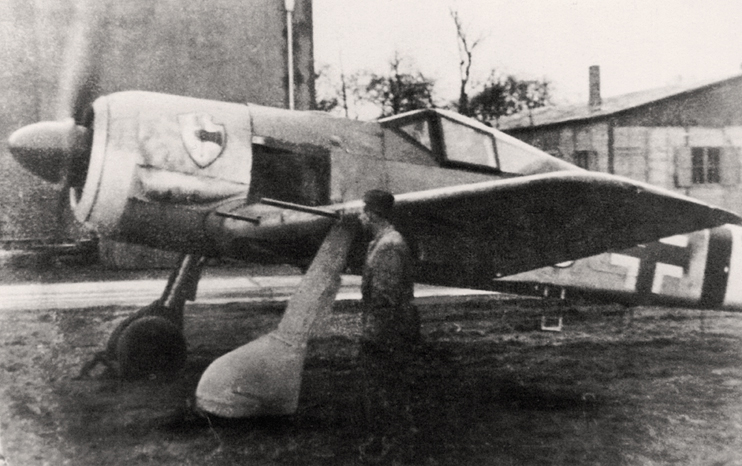 From: Sturmstaffel 1 - Reich Defense 1943-1944 The War Diary by Mombeek, Forsyth & Creek - Larger Image


Sturmstaffel 1's unit emblem consisted of a gauntlet holding a lightning bolt, which represented
the extra armor specially-fitted to the outfit's aircraft and the ferocity of their attacks.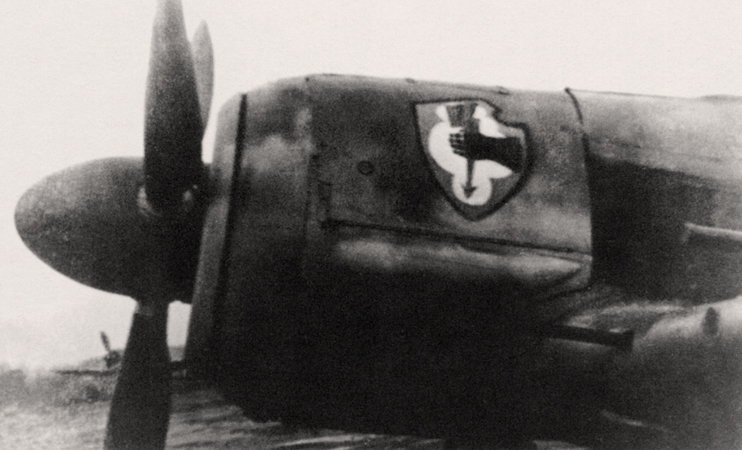 From: Sturmstaffel 1 - Reich Defense 1943-1944 The War Diary by Mombeek, Forsyth & Creek - Larger Image


This last photo, taken on April 29th, 1944, shows pilots from Sturmstaffel 1 with one of their
mounts at Salzwedel. Werner Gerth is sixth from the left, directly under the spiraled prop spinner.
This was among the last photos taken of Sturmstaffel 1 aircraft or personnel, as the unit was soon
to be disbanded and the men reassigned to special 'Sturm' staffeln in other regular fighter outfits.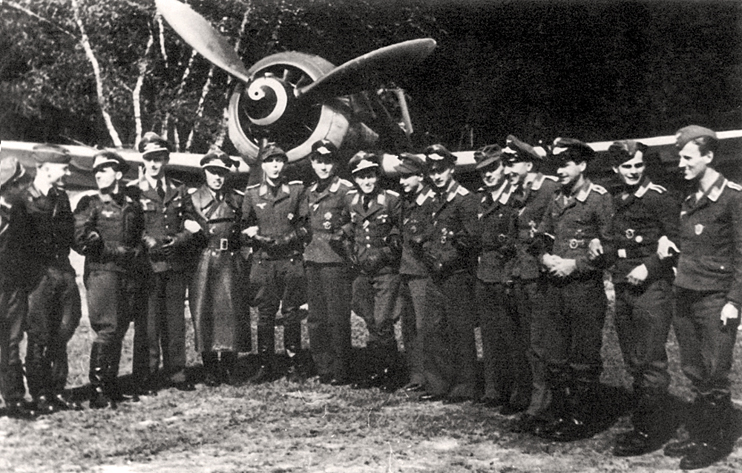 From: Sturmstaffel 1 - Reich Defense 1943-1944 The War Diary by Mombeek, Forsyth & Creek - Larger Image
---


"You WERE That History"

Here's a video that includes some interview segments with Casey. Toward the end there's
a wonderful moment where he mentions a conversation that he had with someone about his experiences
in the war, saying to the fella, "it was history", to which the fella replied, "you WERE that history."
Those four words illustrate why we should remember and honor all of those like Mr. Bukowski for their deeds.





And just for the heck of it, we'll wrap things up here with a shot of the B-17 featured in that
video, the 'Movie Memphis Belle', taken by yours truly at Geneseo in 2008.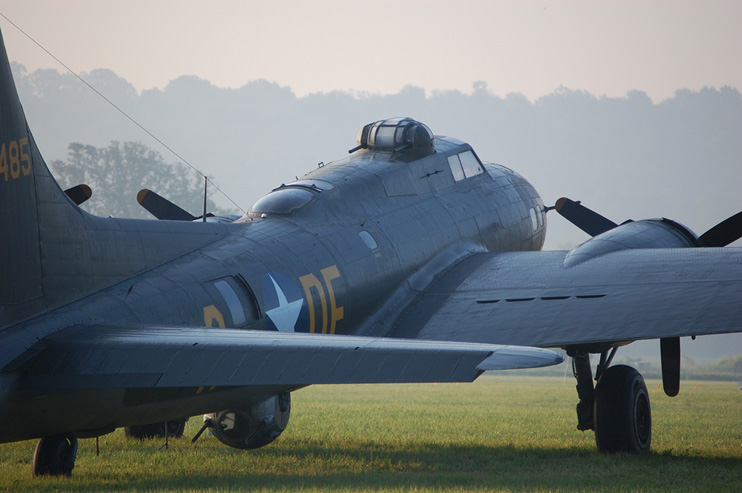 a BuffaloWingz photo - Larger Image
---


More info and photos:

WWII B-17 gunner lost his right eye in midair attack over Germany
Lancaster resident named Veteran of the Month
381st Bomb Group (American Air Museum in Britain)
532nd Bomb Squadron (American Air Museum in Britain)
Ridgewell (American Air Museum in Britain)
A Walk Through History - Ridgewell Airfield, Essex
---
---
Back to 'WNY Vets - USAAF'